Now offering In Vitro Fertilization! 
What are the Advantages of In Vitro? 
Can collect pregnant cows up to 100 days bred.

Less semen required 

Higher fertilization rate when using sexed semen

Can collect a cow every two weeks

Can split collection into multiple matings 
What do we do? 
Oocytes will be collected at our lab and sent to Boviteq same day. 
Boviteq will fertilize oocytes in their lab and send back to us fresh or frozen to be put in.
Working with Boviteq::
State of the art lab in Madison, Wi. 
Focus is on quality of oocytes and quality of embryos
Consistent results
About Our Facility::
Newly constructed specifically for embryo transfer and in vitro fertilization
Temperature controlled, clean collection area with laboratory to ensure consistency of results and reduce risk of contamination
Donor housing available
Easy access 1 mile west of Hwy 61 and Hwy 30, west junction at De Witt
Full time staff to monitor and care for your cows daily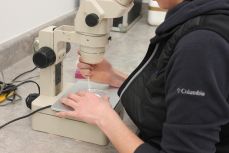 For questions about pricing, please call 563.659.5231